BERMONDSEY FOR THE DOUBLE
---
Santa's little helper: Duncan Bryson
Happy new year fellow dreamteamers! I trust you had a pleasant festive season and are now wondering how every other team in the country can be sooo useless as to let Manure back into the title race. F*ck, F*ck, F*ck!! Ah well, that tenner from Neil will be some consolation (Ha! - webmonkey editor).

Performances in the real league equal points in our league, and Ruud Van Nistelrooy is pushing Thierry Henry close for the title of capo cannonieri and number one point scorer, Ryan Giggs has shown he is really rather good with a few goals and a star man performance and even the much maligned defence is getting a few points (go on Gary Neville, you're a star!)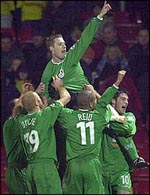 Some Bermondsey Boys celebrate the only goal that mattered over Christmas

Good performances are not limited to those who play in Red, however. Mark Viduka, having done a reasonble impression of useless fat aussie for most of the season is actually doing quite well, leaving me in a quandry in the transfer market and not quite so upset when people say I look like him. James Beattie has found his shooting boots for the lowly saints, as, for Chelsea, has last year's super sub turned this year's star Eidur "Better than Ronaldo" Gudjohnson.

If you don't fancy any of these boys in the upcoming transfer scramble, how about going for one of the players who is looking to turn around their form by moving to a better outfit? Fowler leaving the struggling scousers for big spending Leeds? Andy cole getting some first team games with Blackburn? Or Paolo Di Canio cancelling his membership at Chariots Men's Spa to sample the delights of Canal Street? All could be good gambles.

In the table my team is doing well, up to 7th from 11th, if my transfers work out I'll be in with a shout. Torpedo are hitting form at the right time for the cup, and with a by in the first round must rank amongst the favourites. Ash is establishing a healthy lead at the top, while mark and Rob cling on to the podium places.

Supersonic FC are starting to slip, which you would think would give Neil a chance to restore some pride against his wife/sister/mum/all three (he is from the east end) were it not for the fact that Crazyhorse were wallowing at the wrong end of the table. Joining our erstwhile compere in the nether regions of performance is Cory Tallant, who does very well in the posh paper's leagues but obviously can't quite get the hang of the Sun's simplistic format. Duck Utd are doing a Blackburn, and Oh Sheffield must have picked a team to rival those of the Blades and the Owls.

So, no bets being taken on last place, but it's all to play for at the other end.


| POS | TEAM | PTS | SC | |
| --- | --- | --- | --- | --- |
| 1 | CRUMBS DM | 938 | 155 | |
| 2 | KEANE AS MUSTARD | 872 | 140 | |
| 3 | 1FC LAUNDROMAT | 834 | 113 | |
| 4 | 1897 - THE GOLDEN YEAR | 811 | 141 | |
| 5 | SPAKATAK TOXTETH | 784 | 99 | |
| 6 | SUPERSONIC FC | 774 | 60 | |
| 7 | TORPEDO BERMONDSEY | 767 | 117 | |
| 8 | GAZTON VILLA | 761 | 98 | |
| 9 | RÓISÍNS XI | 744 | 87 | |
| 10 | SALFORD STROKERS | 743 | 83 | |
| 11 | LUKE PERRY ALL-STARS | 723 | 93 | |
| 12 | FECK-ARSE-NIL | 713 | 56 | |
| 13 | SOFT CENTRES | 703 | 109 | |
| 14 | WHATEVER | 693 | 137 | |
| 15 | AOIFE'S XI | 679 | 118 | |
| 16 | BIRMINGHAM SHITTY | 678 | 132 | |
| 17 | CLINT BIZZELL JUNIORS | 664 | 103 | |
| 18 | ATHLETICO SALFORD | 657 | 111 | |
| 19 | BILLY'S BOOTS | 647 | 114 | |
| 20 | THE DARLING DUBS THAT PLAY | 644 | 101 | |
| 21 | BILL S PRESTON NORTH END | 634 | 95 | |
| 22 | PATRICK DUFFY THISTLE | 625 | 82 | |
| 23 | CRAZYHORSE FC | 623 | 90 | |
| 24 | LION OF VIENNA SLEEPS TONIGHT | 614 | 93 | |
| 25 | HICKY'S HEROES | 592 | 111 | |
| 26 | WOODBOURNE ROVERS | 585 | 59 | |
| 27 | A TASTE OF THE RAJ | 549 | 53 | |
| 28 | LONE RANGERS RETURN | 442 | 48 | |
| 29 | DUCK UTD | 488 | 77 | |
| 30 | OH SHEFFIELD | 376 | 114 | |