GIVE ME GIN AND TONIC
---
Well, I didn't expect things to change so dramatically after just one week but then football's a funny old game.

Top of the tree for the first time ever (I think) is Nic and she's very happy about it too. But as they say, the race for the Championship is a marathon rather than a sprint. But then I've got to say that because while she was leap-frogging the competition to claim top spot, my team was having something of a dramatic fall down the table. After notching up just five measly points, Crazyhorse FC find themselves 22nd - a fall of fourteen places from the relatively lofty position of 8th. I'm not overtly worried…honest…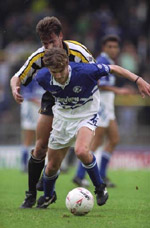 Tony Dolby wonders why he's even on this site...

Fletch had a bit of a mixed week - on the one hand he was this week's top scorer with 45 pts, which was enough to secure a top ten placing for Freakin' Last, while on the other hand he was this week's lowest scorer as well with -1, which was enough to see him plummet down the table and end up in last place. All of a sudden, 1897 don't seem so golden.

Another person who seems to have lost the Golden Touch is none other than the reigning Champion, Callum Campbell. The Porcelain Horse have had a horrendous start to the new season and scored lowly again this week. After last season, some would say that this fall from grace is richly deserved but as they say it they will be looking over their shoulders to make sure that Callum is still in trouble and not climbing the table with "aplomb".

Elsewhere, Ash is doing quite well, having moved up to second, while Ron must be pleased that at least one of his teams is doing all right. Interesting to see that only seven points separates the top five - which probably means that come next week, I'll be juggling with a load of html code trying to rearrange their places as they swap positions. Lovely.

There's a full fixture of midweek games so they'll be another update next Monday. Enjoy...


| POS | TEAM | PTS | SC |
| --- | --- | --- | --- |
| 1 | SUPERSONIC FC | 99 | 36 |
| 2 | CRUMBS DM | 97 | 36 |
| 3 | LUKE PERRY ALL-STARS | 93 | 28 |
| 4 | DUCK UTD | 92 | 30 |
| 5 | SUNDAY STROOLERS | 92 | 16 |
| 6 | SHAMROCK UNITED | 89 | 21 |
| 7 | FREAKIN' LAST | 88 | 45 |
| 8 | BILLY'S BOOTS | 84 | 32 |
| 9 | BILL S PRESTON NORTH END | 77 | 42 |
| 10 | ST. REATHAM FC | 75 | 30 |
| 11 | MICHAEL BOLTON WANDERERS | 68 | 32 |
| 12 | VILLA REJECTS | 63 | 18 |
| 13 | BIRMINGHAM SHITTY | 60 | 32 |
| 14 | LION OF VIENNA SLEEPS TONIGHT | 59 | 28 |
| 15 | THE LONE RANGERS | 57 | 20 |
| 16 | GAZTON VILLA | 56 | 23 |
| 17 | A TASTE OF THE RAJ | 53 | 22 |
| 18 | ATHLETICO SALFORD | 53 | 29 |
| 19 | PATRICK DUFFY THISTLE | 52 | 32 |
| 20 | RUSHDEN ANNE DIAMONDS | 52 | 25 |
| 21 | SPAKATAK TOXTETH | 51 | 21 |
| 22 | CRAZYHORSE FC | 50 | 5 |
| 23 | TORPEDO BERMONDSEY | 44 | 20 |
| 24 | THE PORCELAIN HORSE | 43 | 5 |
| 25 | SOFT CENTRES | 39 | 22 |
| 26 | 1897 - THE GOLDEN YEAR | 38 | -1 |