CUP GLORY BECKONS
---
There's just a week to go before the first trophy of the season is won, with the final of the Dreamteam Cup taking place next weekend, and it's a straight head-to-head clash between Luke Perry All-Stars and Billy's Boots.

At first glance, Luke Perry All-Stars would appear to be the outstanding favourites to lift the trophy and cash whatever money is left in the kitty after all the prize money is given out at the end of the season. But Billy's Boots have refused to lie down and die when faced with superior opposition in the past and have knocked out current leaders Duck Utd and the Sunday Stroolers in previous rounds. It's gonna be a fascinating contest, with a lot depending on how well Liverpool do against Second Division minnows, Wycombe Wanderers.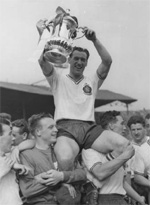 The other - more successful - Lion of Vienna

Both teams have players competing in both semi-finals, but Billy's Boots seem to have the upper hand by virtue of having four players to Luke Perry All-Stars. However, Simon shouldn't be too downhearted. Although the AV Department can rely on the goal-scoring talents of Liverpool's Dieter Hamann and Emile Heskey, they may come unstuck with their dodgy defence. With Neil Sullivan in goal, anything can happen while Stephan Carr hasn't played for Spurs for quite a while and with Thierry Henry upfront for Luke Perry, Simon will go into the game quietly confident of achieving victory.

Mr. Stoker also has the talents of Steven Gerrard to fall back on in Liverpool's midfield - providing his back holds up ok - and in Silvinho he has a defender capable of scoring goals. But both of these players may not feature and that'll leave poor Simon relying solely on Henry.

Of course, this is the Cup, so anything could happen but we have in prospect a nicely balanced Final that hopefully won't end in a stalemate.