Game On
---
Eyes down for a full house as we kick off another season of Dreamteam football and embark on a voyage of trials, tribulation, upset, disappointment and, if you're very lucky, triumph.

This is the fifth year we've been doing this and I for one think we're barking mad. In that time we've seen a variety of teams come and go but there are still a handful left over from that original 13-team competition, kinda like the Original Six in Ice Hockey's NHL.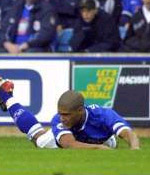 Glen Johnson learns how to become a £6 million defender while on loan at Millwall

I have no idea how many teams we're going have this season so you'll have to wait until August 16th to find out how this year's competition will be structured and - more importantly - how many coffers they'll be in the prize fund. But until then you can kick back and relax and play with formations and players until you're satisfied with your final eleven.

That's not to say there are no rules. You've only got a budget of £40 million to spend and you can't have more than two players from one team. What's more, you can only choose between a 4-4-2 and a 4-3-3 formation. Oh, and all teams must be in by 5pm on Friday, August 15th.

Entry is the same as before - £10. You can find out how to play in more detail by clicking on the link provided and there's a full list of available players, nicely broken down into categories. These were correct as of Saturday, 2nd August but an update list will be provided as and when we get it.

So, there you have it. Let me know what your team is and we'll take it from there.

Good luck!