THE QUEEN IS DEAD
---
Having lead the field for so long, Duck Utd and their manager, Karen Wise, will have a different perspective on things this week, having been toppled from the roost that they held for so long. But the writing was on the wall last week, and having surrendered their seemingly insurmountable lead they were unable to hold of the twin challenge of the Luke Perry All-Stars and St. Reatham FC and now find themselves in the unfamiliar surroundings of third place. Karen's score of 13 was not enough to hold on to top spot, but St. Reatham FC's score of 26 was not enough to claim pole position either. That honour went to Simon Stoker and the Luke Perry All-Stars, who notched up 37 points to go into the lead. But their lead is not great, and with no room for error, there is everything to play for...

Which makes a refreshing change from last year, when the Porcelain Horse, under the guise of Ugly But Dangerous, romped home with weeks to spare. This year it looks like everything is going down to the wire. With players coming back from injury and others now ruled out for the remainder of the season, no one is certain of anything, with maybe the exception of the Lone Rangers and Patrick Duffy Thistle, who are so far ahead of last place and miles behind the Fair Play Award that they have nothing left to play for except pride. But two teams out of twenty-six is not a bad return for any League.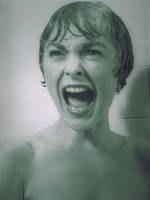 The shock of discovering Karen was no longer top was felt throughout football

If that wasn't excitement enough, at the bottom the Villa Rejects have decided they've had enough of being the class whipping boys and have made a final push towards 25th place. A very good score of 63 has closed the gap on the Soft Centres and opened up the race for the Wooden Spoon. With just six weeks remaining to the end of the season, it looks like both this and the race for the title are going down to the wire - and after last season's stalemate, we could do with some excitement!

So what of the rest of the league? At the bottom, Dave seems desperate to throw away the Wooden Spoon and has further reduced the gap between him and Ron's Soft Centres to a mere 22 points. This has probably got something to do with the fact that all those Villa Rejects are started to show glimpses of the form that forced Doug Ellis to shell out so much of his hard-earned cash for them in the first place. The Soft Centres on the other hand, are falling apart and have found points hard to come by in recent weeks.

At the top, fourth place is still will up for grabs. Present incumbents Supersonic FC, have faltered and their failures to rack up the points has let in Freakin' Last, Bill S Preston North End and the Sunday Stroolers. Nine points is all that separates fourth from seventh with Gazton Villa and Torpedo Bermondsey close behind should any of the above slip up. Don't rule out The Porcelain Horse either. If the Luke Perry All-Stars can close a near hundred-point gap in one week, I'm sure Callum could as well...

In the middle, things are hotting up again with anyone of eleven teams capable of securing 15th place and ten new pounds! Favourites at the mo have to be Athletico Salford but they only managed to scrape together two measly points this week so could find themselves in trouble if their players don't start pulling their fingers out. Their poor performance has opened the door for Nity Raj, who closed the gap to 18 points, but anything can happen in this league, and A Taste of the Raj could easily find themselves over-shooting the target if they're not too careful. Consistency is the key, and everyone is being consistently inconsistent.

Still, if we all picked a decent a side, we could be sitting pretty with the Championship sown up like Alex Ferguson. The Current leader of the Sun's Championship, for example, has a whacking 1675 points. His side? Wright (Ipswich Town); Ferdinand (West Ham), Babbel (Liverpool), Dodd (Southampton), Adams (Arsenal); Pires (Arsenal), Bowyer (Leeds Utd), Beckham (Man Utd); Sheringham (Man Utd), Stewart (Ipswich Town), Heskey (Liverpool). Not a bad collection of players, but even this side could be improved on...

Anyway, that's enough for now. Next week should be interesting and should contain a couple of very high scores, judging by the number of games being played this week. Who knows, perhaps Duck Utd could reclaim top spot...

Here's the table.