MATHEMATICALLY SAFE
---
Symmetrical patterns. Don't you just love them? Ron and Cory obviously do, either that or they're both autistic. How else do you explain their perfect scores of 914, 913 and 912 for Patrick Duffy Thistle, Lion of Vienna and Bill S Preston North End? Pure Karma…

Anyway, back to more mundane matters and at the other end of the table Mark and Ash continue to battle it out for the Dreamteam crown. Ash seems to be the victor this week having cut Keane As Mustard's lead to jut twelve points but those who know Crumbs DM's cigar-smoking and fedora-wearing manager will tell you that he is never happy and only this morning his was moaning about Ian Harte's inability to get a rating higher that six in The Sun. What a moody swine…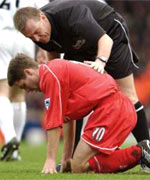 Michael Owen adopts his now traditional position in the box...

Supersonic FC managed to halt their worrying slide down the table and have bounced back up to fifth thanks to a score of 79 while the Salford Stokers reclaimed their Top Ten placing after notching up 91, the second highest total of the week. Spakatak Toxteth are still in third with the Soft Centres close behind in fourth. Highest scorers of the week were Woodbourne Rovers, who managed an astonishing 96 points, lifting them to the lofty heights of 24th place…

It was a bad week for Billy's Boots. Having been the strongest link in the last round they experienced a reversal of fortune this time around and could only manage a paltry 18 which saw them fall four places to 25th. If they're not careful they may find themselves overtaken by those perennial wooden-spooners, Oh Sheffield, who once again proved that there is still life in the old dog by scoring a respectable 51 points. It wasn't enough to move them off the bottom but they've closed the gap on the Lone Rangers Return to just twenty-two points. Whatever next? Perhaps they could learn a thing or two from the Spaccers of Toxteth who have bounced back from being bottom at the beginning of the season.

Best performance of the week as to go to Crazyhorse FC for getting an interview with the British Bobsleigh Association and for moving up one place to 18th. Is there no stopping this team? (Well, yes. They'll probably implode at the weekend and drop into the mid-twenties…)

That's it for this week. Congratulations if you've still got Louis Saha instead of Michael Ricketts. Here's the draw for the semi-finals of the Dreamteam Cup closely followed by this week's table! Enjoy, kids.


DREAMTEAM SEMI-FINAL CUP DRAW
Feck-Arse-Nil FC
v
Athletico Salford
Hicky's Heroes
v
Keane As Mustard

Now, that looks like something nicked from Grandstand circa 1985...Here's the table


| POS | TEAM | PTS | SC | |
| --- | --- | --- | --- | --- |
| 1 | KEANE AS MUSTARD | 1335 | 79 | |
| 2 | CRUMBS DM | 1323 | 89 | |
| 3 | SPAKATAK TOXTETH | 1196 | 66 | |
| 4 | SOFT CENTRES | 1167 | 63 | |
| 5 | SUPERSONIC FC | 1146 | 79 | |
| 6 | 1FC LAUNDROMAT | 1142 | 61 | |
| 7 | 1897 - THE GOLDEN YEAR | 1134 | 38 | |
| 8 | SALFORD STROKERS | 1125 | 91 | |
| 9 | RÓISÍNS XI | 1118 | 46 | |
| 10 | GAZTON VILLA | 1088 | 63 | |
| 11 | TORPEDO BERMONDSEY | 1087 | 61 | |
| 12 | AOIFE'S XI | 1084 | 43 | |
| 13 | ATHLETICO SALFORD | 1082 | 85 | |
| 14 | FECK-ARSE-NIL | 1036 | 62 | |
| 15 | HICKY'S HEROES | 1028 | 65 | |
| 16 | BIRMINGHAM SHITTY | 997 | 77 | |
| 17 | LUKE PERRY ALL-STARS | 987 | 35 | |
| 18 | CRAZYHORSE FC | 967 | 72 | |
| 19 | THE DARLING DUBS THAT PLAY | 956 | 48 | |
| 20 | WHATEVER | 938 | 49 | |
| 21 | PATRICK DUFFY THISTLE | 914 | 67 | |
| 22 | LION OF VIENNA SLEEPS TONIGHT | 913 | 54 | |
| 23 | BILL S PRESTON NORTH END | 912 | 63 | |
| 24 | WOODBOURNE ROVERS | 898 | 96 | |
| 25 | BILLY'S BOOTS | 896 | 18 | |
| 26 | CLINT BIZZELL JUNIORS | 889 | 46 | |
| 27 | A TASTE OF THE RAJ | 824 | 41 | |
| 28 | DUCK UTD | 752 | 43 | |
| 29 | LONE RANGERS RETURN | 648 | 28 | |
| 30 | OH SHEFFIELD | 626 | 51 | |