NEIGHBOUR OF THE BEAST
---
I can't understand it. All my other fantasy football teams are doing well. So well in fact that I currently lie 8th out of over 7,000 teams in Sports.com's Ultimate Soccer game and I'm 3rd in the company's Fantasy Football League. Yet for the third year running my Dreamteam is complete pants. I put it all down to bad luck. That and the fact I never pay attention when picking my team. Anyway, this week my motley rabble managed to score 58 to move up to 16th so I should be thankful for small mercies, I suppose.

It was a high scoring week all round with Fletch and 1897 - The Golden Year topping the pile with 81, beating Ash by just one point, to move into the Top Ten (I put it all down to Ruud van Nistelrooy). However, Crumbs DM's score was good enough to keep the elusive mole at the top with an almost Satanic 667 points while Keane As Mustard remain second. Supersonic FC have moved back up to third, swapping places with the Salford Strokers in the process, having notched up 69 (fnarr, fnarr) while Spakatak Toxteth leapfrog Gazton Villa to move into 6th.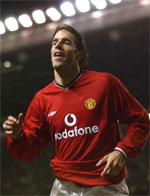 Red Devil dances in the moonlight to help Rosemary's Baby claim top spot

At the bottom, Oh Sheffield managed to record a reasonably respectable score of 25 but it was bad news again for Duck Utd who were this week's lowest scorers with 22. Hicky's Heroes continue to close the gap on the teams above but A Taste of the Raj had a week to forget as they fell five places.

Patrick Duffy Thistle continue to hold onto 15th place and the Fair Play Award but the chasing pack is so tightly, er, packed that anyone of ten teams could still walk off with that all important tenner at the end of the day. Oh Sheffield seem to have The Wooden Spoon wrapped up while Crumbs DM continue to stretch their lead at the top, as for the rest of the money spots, they'll probably go down to the wire.

That's it for this week. Sorry it was late again. Don't blame me, blame who ever come up with the bright idea of an office Christmas party.

Here's the table with all the stuffing and trimmings.


| POS | TEAM | PTS | SC | |
| --- | --- | --- | --- | --- |
| 1 | CRUMBS DM | 667 | 80 | |
| 2 | KEANE AS MUSTARD | 634 | 68 | |
| 3 | SUPERSONIC FC | 620 | 69 | |
| 4 | SALFORD STROKERS | 612 | 60 | |
| 5 | 1FC LAUNDROMAT | 596 | 52 | |
| 6 | SPAKATAK TOXTETH | 591 | 64 | |
| 7 | GAZTON VILLA | 584 | 47 | |
| 8 | FECK-ARSE-NIL | 577 | 57 | |
| 9 | RÓISÍNS XI | 573 | 67 | |
| 10 | 1897 - THE GOLDEN YEAR | 569 | 81 | |
| 11 | TORPEDO BERMONDSEY | 553 | 67 | |
| 12 | LUKE PERRY ALL-STARS | 550 | 53 | |
| 13 | SOFT CENTRES | 514 | 52 | |
| 14 | THE DARLING DUBS THAT PLAY | 498 | 32 | |
| 15 | PATRICK DUFFY THISTLE | 496 | 46 | |
| 16 | CRAZYHORSE FC | 488 | 58 | |
| 17 | AOIFE'S XI | 483 | 35 | |
| 18 | CLINT BIZZELL JUNIORS | 482 | 35 | |
| 19 | BILL S PRESTON NORTH END | 481 | 58 | |
| 20 | ATHLETICO SALFORD | 473 | 41 | |
| 21 | LION OF VIENNA SLEEPS TONIGHT | 462 | 52 | |
| 22 | BIRMINGHAM SHITTY | 460 | 44 | |
| 23 | WOODBOURNE ROVERS | 459 | 50 | |
| 24 | BILLY'S BOOTS | 458 | 46 | |
| 25 | A TASTE OF THE RAJ | 448 | 31 | |
| 26 | WHATEVER | 442 | 57 | |
| 27 | LONE RANGERS RETURN | 407 | 35 | |
| 28 | HICKY'S HEROES | 397 | 49 | |
| 29 | DUCK UTD | 366 | 22 | |
| 30 | OH SHEFFIELD | 225 | 23 | |