OUT FOR THE COUNT
---
"I assembled my papers together and quickly made my way from my room to the small library that sat adjacent to my private study. The Count had already made his way into the room and I found him reclining on the reading sofa. In his hands he had a very strange publication. I had browsed the many books on show, and indeed it was a fine collection of manuscripts, but this looked like nothing I had seen before. It had a montage of colourful pictures on the cover complete with a bold typeface. I could hold my curiosity no longer and asked the Count what he was reading.

'Why', he replied. 'It's my Charlie Buchan Football Annual'. It seemed my host had a healthy interest in this new game of association football. As luck would have it, some chums and I had formed our own fantasy league back home in England and the Count seemed impressed when I recounted the many tales of how it came into being.

Before I left for Transylvania I had managed to get hold of a copy of the pictorial Sun and had only just finished tallying the scores for the week just past. I had accidentally picked them up when I went to get the deeds for Carfax Abbey and so I showed the Count. He was most impressed.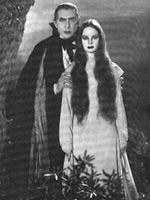 Having been introduced at the Christmas bash, Karen soon fell under the Count's evil spell

'So tell me, young Harker, who is leading this League of yours?' he asked.

'A Ms Karen Wise', I replied. 'A lady of virtue from the industrial town of Manchester. She has been top for many weeks now, thanks to the goal-scoring achievements of Mr. Edward Sheringham, who plays for Newton Heath.'

'Most interesting', intoned the Count. 'Does she have much competition?'

Enjoying the conversation, I readily went into detail. 'In second place is Mr. Simon Stoker and his Luke Perry All-Stars while in third is another noble lady, a Ms Nicola Kelly, who is soon to be married. She has climbed the table over the past couple of weeks and is enjoying a purple patch of form.'

'I like a woman with good form' he replied. 'But what of those who are not doing so well, what about them?'

'At the bottom lies the Villa Rejects. A poor team who seem to be cast off from a club called Aston Villa, which is situated in that run-down city of Birmingham. Although they had a good week this week, thanks to the goals of Dwight Yorke and Mark Draper. He has also benefited from the failure of the Soft Centres, who failed to score any points.'

'Failed to score!' interrupted the Count. 'Is this common?' I replied in the negative and pointed out to my host that several teams failed to reach double figures this week, including St. Reatham FC and the Sunday Stroolers.

'Ah, I see. So, who scored the most this week?'

'That would be Crumbs DM - a somewhat indifferent team, managed by one Ashish Shah. They scored forty-two points but are forever blowing hot and cold and in Tim Flowers they have a goalkeeper who is very similar to your good self Count.'

'Oh, how come' he inquired.

'He's scared of crosses' I replied. I then went on to tell the Count how the race was hotting up for 15th place and that all-important Fair Play Trophy. I remarked how yet another fine lady was currently occupying that spot and his eyes lit up…

'Tell me, Mr. Harker, do any of these fine women having a heaving chest?' Somehow, I detected that the Count had developed an unnatural interest in the shape of my good lady friends. I hastily made my excuses and retired to my room. But before I left, I presented to him a copy of the latest table, which I record for you now in my diary…"