QUACK, QUACK, QUACK, QUACK...
---
Like Barcelona in Spain and Dynamo Moscow in the former Soviet Union, Crazyhorse FC isn't just football club. It is a Sporting Club that operates on many levels, and because I am tired of talking about the failings of the Crazyhorse FC Fantasy Football team, this week I am going to talk about the failings of the Crazyhorse FC Fantasy Ice Hockey franchise.

After a great start - winning the first five games of the season - Crazyhorse FC's form has been somewhat erratic of late. Having sat proudly at the top of the Conference for four months, the chasing pack slowly wound my boys in. A run of four defeats on the spin saw them slip down and they now sit in 6th place - still in the play-offs but someway off a winning season. Which is a crying shame - being the only Brit in the league meant I could gloat to my heart's content. Still, they managed to break the losing snap at the weekend and go into the next round of games full of confidence.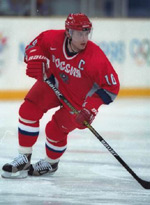 Pavel Bure often wondered why he ended up in Crazyhorse FC's footy team...

Back in the real world, Duck Utd remain at the top - surprise, surprise - and last week broke through the 1000-point barrier. Karen now has a comfortable 76-pont lead to play with and can relax in the coming weeks. However, the Dreamteam Cup may prove more challenging. Will she do the Double? Stay tuned…

At the other end of the table, the Villa Rejects reclaimed their rightful place at the bottom after going all negative with a score of -2. The Soft Centres' respectable tally of 39 finally put a bit of daylight between the two and it'll be interesting to see whether or not Dave can - or wants to - close the gap.

This week's highest scorers were Supersonic FC. Having had a good Cup weekend, Nic reinforced her claim for a money spot by scoring well in midweek too, notching up 59 points in total. Most people had a good week, but those with a score of below 25 may feel a bit disappointed with their teams' efforts.

Torpedo Bermondsey continued their late spurt, moving up another place in the table while other movers and shakers included 1897 - The Golden Year, who dropped three places to 18th and Crazyhorse FC, who moved up one. Nothing like a bit of self-publicity…

67 points separate 2nd from 7th place, so as we go into the final furlong, the remaining three money spots in the Top Ten are up for grabs while the fight for the wooden spoon looks like a two horse race, even at this early stage. As for the Fair Play award and the tenner for finishing 15th, well, that's anyone's guess.

Here's the table.