WAITING FOR THE GREAT LEAP FORWARDS
---
While Karen enjoys the fruits of Teddy Sheringham's labours, it is worth remembering that there's twenty bonus points up for grabs at the end of the season for the Dreamteam's highest scoring player. It didn't make much difference last year but I've got a feeling it could come into play this time around. At the moment, Sir Edward is leading the player rankings with a score of 96 points but before Karen celebrates, let us pause for a moment and spare a thought for all those teams who have players who have yet to get off the mark.

It's very rare for a team to go throughout a season with a player who fails to score but there's a few that are going for it in 2001. Biggest culprit is Mark Delaney of Aston Villa, who despite having something of a stormer last year, as yet to feature for the Villains this time around, much to the chagrin of Gary, Nic, Nity and Ash to name but a few. The same goes for Ugo Ehiogu, but his move to Middlesbrough should prove fruitful for the likes of Billy's Boots and Athletico Salford. Tony Cottee will never score, especially now he's plying his trade in the Third Division with Barnet, so it looks like Dave has picked a true winner although he faces stiff competition form the Lion of Vienna Sleeps Tonight's keeper - Keith Branagan. Branagan, a former favourite on the terraces of Bolton and Millwall, is currently warming the bench with Ipswich Town and is unlikely to feature before Christmas.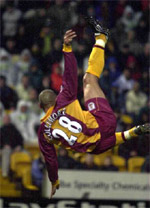 Stan Collymore - sure has changed since he was the lead guitarist in the Housemartins

But it's not all bad news. Take Rory Delap. Several managers decided to take a gamble on the free-scoring Derby County defender and until this week, it was a gamble that had been going tits-up. But two goals and a clean sheet has seen his score rise from -9 to 11, which was good news for Cory and Patrick Duffy Thistle as they finally posted a respectable score - 55 points - which may not have moved them very far but at least keeps them in touch with the teams above.

Highest scorer this week was St. Reatham FC with 86 points. This was enough for Mark to move above Ash, Karen and Richard and into pole position once again with 486 points. Second is Karen with 473, half of which was scored by Sir Ted, while last week's leaders, the Sunday Stroolers are in third place with 454.

But they'd better not rest on their laurels too much. There's been some distinctly unsporting behaviour over the past few weeks with those at the top pouring scorn at those below but pride usually comes before a fall and those at the top should take heed of Billy's Boots recent fall from grace. Second just four weeks ago, they now lie in 15th position, still in the money but way behind the leaders and four places behind 1897 - The Golden Year.

Just six weeks ago, 1897 - The Golden Year were bottom of the pile but after two good weeks they've moved up the table and now sit outside the Top Ten in 11th place. If anything, Ron should take encouragement from this because at the moment, the Soft Centres are in 26th spot and a gap is opening between them and the rest of the League.

More ranting and raving next week, but in the meantime, here's the table with a simple to use guide as to who is currently in the money and who's drifting away from the hard cash and into midtable poverty.

Thanks to Cory for the pic! Ash, reply faster next time...