AND THAT MRS JACKSON SAID RICKETTS WAS BAD FOR YOU...
---
Dear John,

By the time you read this, I'll be gone. I've had enough of your constant whining and moaning about how poorly your team is doing. You don't care about me or the kids. All you care about is that ruddy fantasy football team of yours.

I don't know why you bother. It's not as if your team is any good. Every year you select a mediocre forward line and a midfield made up of injury-prone penalty takers. I don't know why you just don't follow the example of that nice fellow down the road who manages the Salford Strokers?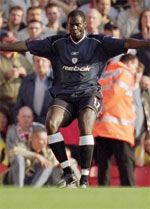 Michael Ricketts was thrilled the day the Arse stood still...

He's been top for the last three weeks now and doesn't look like losing it at the mo. A good attacking force of Saha and Ricketts, coupled with a defence built around Rio Ferdinand and Sami Hyppia has insured that his team continually scores well. I had my doubts when you started complaining that you couldn't find Peter Osgood in the Chelsea line-up.

I should have listened to my mother and ran off with that nice fellow from the "1FC Laundromat" on the High Street. He always scores well and would've kept me in soap suds for as long as I lived. He may be second best at the mo but he's still a thousand times better than you.

I only have to look down the table to find an improvement on you and it is not only the men. Even the women are better than you! That Liverpudlian lass from the estate, Spakatak Toxteth, is in the Top Ten while those Darling Dubs are shooting up the table like there's no tomorrow.

I don't know where it all went wrong, I truly don't. Just take a look around you! Look at Crazyhorse FC - 61 points this week! 61 POINTS!!! How do you explain that, eh?

All I hear is the usual "I'm so unlucky with injures/loss of form/transfers!" And I'm fed up with it. If Birmingham Shitty can score well anyone can! And don't give me that tripe about him "missing an angel" in the first two weeks. It won't wash with me. And I don't want to hear anything about your players going missing in Europe neither!

I'm leaving you and taking the kids with me. If you want me I'll be at my mother's. I've paid off that nice man Mr Voce for that hotel room so you don't have to worry about that. Oh, and if you want your scores, you'll find them on the table.

Audrey.


| POS | TEAM | PTS | SC | |
| --- | --- | --- | --- | --- |
| 1 | SALFORD STROKERS | 282 | 64 | |
| 2 | 1FC LAUNDROMAT | 276 | 65 | |
| 3 | FECK-ARSE-NIL | 253 | 56 | |
| 4 | KEANE AS MUSTARD | 252 | 71 | |
| 5 | GAZTON VILLA | 248 | 66 | |
| 6 | CRUMBS DM | 227 | 56 | |
| 7 | RÓISÍNS XI | 219 | 47 | |
| 8 | SPAKATAK TOXTETH | 215 | 49 | |
| 9 | AOIFE'S XI | 214 | 48 | |
| 10 | LUKE PERRY ALL-STARS | 208 | 44 | |
| 11 | TORPEDO BERMONDSEY | 206 | 47 | |
| 12 | SUPERSONIC FC | 206 | 40 | |
| 13 | THE DARLING DUBS THAT PLAY | 204 | 61 | |
| 14 | SOFT CENTRES | 204 | 33 | |
| 15 | 1897 - THE GOLDEN YEAR | 198 | 46 | |
| 16 | PATRICK DUFFY THISTLE | 195 | 43 | |
| 17 | BILLY'S BOOTS | 193 | 34 | |
| 18 | CLINT BIZZELL JUNIORS | 188 | 62 | |
| 19 | WOODBOURNE ROVERS | 187 | 45 | |
| 20 | CRAZYHORSE FC | 185 | 61 | |
| 21 | A TASTE OF THE RAJ | 177 | 57 | |
| 22 | ATHLETICO SALFORD | 173 | 29 | |
| 23 | LION OF VIENNA SLEEPS TONIGHT | 166 | 29 | |
| 24 | LONE RANGERS RETURN | 159 | 27 | |
| 25 | BILL S PRESTON NORTH END | 150 | 22 | |
| 26 | DUCK UTD | 149 | 41 | |
| 27 | BIRMINGHAM SHITTY | 148 | 58 | |
| 28 | WHATEVER | 132 | 28 | |
| 29 | HICKY'S HEROES | 117 | 14 | |
| 30 | OH SHEFFIELD | 86 | 21 | |