OLE LANG SYNE!
---
It was a good Christmas for some, while for others it was cold and dark. While some received a Playstation 2, others got ill-fitting jumpers and socks.

The biggest winners of the Yuletide period were those who had Ole Gunnar Solskjaer. The Baby-faced assassin has made the most of his chance in the absence of the injured Teddy Sheringham and has been putting away the goals like there is no tomorrow. His goal scoring efforts have helped Supersonic FC climb to 7th place and, together with a Thierry Henry hat-trick, Nicola's outfit ended up with a festive score of 110, second only to Rob Hick and his Rushden Anne Diamonds. The daytime TV stalwarts notched up a merry 111 to move up to 13th place. Let's hope it's not too unlucky for them in the New Year.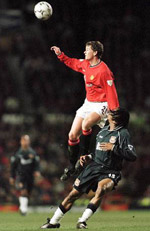 Walking in a Solskjaer wonderland...

Other winners this Christmas also include Gazton Villa, who scored 102, and Patrick Duffy Thistle, who knocked up 93 points. Both scores were enough to move them up the table, with Gazton Villa finding themselves in the Top Ten once again. Who knows, with a bit of shrewd wheeling and dealing in the transfer market and a top four place is there for the taking…Not.

At the other of the end of the advent calendar, Dave had a very bad Christmas as the Villa Rejects could only muster a meager 22 points, allowing Ron's Soft Centres to close the gap at the foot of the table. Shamrock Rovers had a Yuletide they'd rather forget while 1897 - The Golden Year also had a relatively bad fortnight and fall to 14th after notching up 40 points. Fletch can't really moan though, as Freakin' Last are sitting on the shoulders of the top four in 5th place.

Elsewhere, Athletico Salford and Torpedo Bermondsey had a good Christmas with both teams scoring in the nineties while Karen is still top after scoring 84. Whether she'll be able to keep her distance from the rest of the pack however is now in question as Teddy Sheringham is still out injured.

This week sees the start of the FA Cup, with any points scored going towards your league scores and the cup games if you're involved. And just in case you've forgotten, all transfers must be in by 5.30pm on Friday night as they take effect from 2.30pm the following afternoon. Remember not to exceed your budget and you can't have more than two players from one team.

That's it for now. Here's the table. Enjoy.