MY UKRAINIAN FRIEND
---
Sergei Rebrov - what can I say? Thirteen unexpected points as the man from the Ukraine put Fulham to the sword. I may have only moved up one place, but in a week where most of you moved neither up nor down, I call that steady progress.

Not much to write home about this week. I scored a cracking goal from, oooooh, let's say forty yards at lunchtime while Oh Sheffield finally managed to break the 200-point barrier. It was a close run thing though as they only managed to scrape together three points over the course of the past week.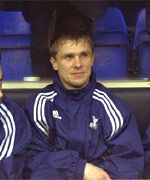 Sergei Rebrov: No more bench for you, young man.

Biggest shock of the week is the continuing poor form of last season's runaway leader, Duck Utd. Having gone so close to victory in their debut season, the not-so-mighty Ducks have struggled to get to grips with the competition this time around and now lie just one of the bottom. A score of 38 was good enough for Hicky's Heroes to leap above the lass from Manchester, who's boys are, let's face it, once again this season's Ipswich Town.

Top scorers of the week were the Salford Strokers, who notched up a gallant 49 to move into third, pushing Supersonic FC down one into Fourth. Crumbs DM are still at the top while Keane as Mustard remain in second place, still twenty-one points behind. I have it on good authority that Ash is running scared and deeply concerned that his lads have not been able to break away from the chasing pack. He seems to think that the horror of the 1999/2000 will come back to haunt him and leave him penniless once again. However, having found out that he currently earns £80k a year (plus benefits) I don't think he has any worries on that front.

With the transfer window looming after the busy Christmas schedule, the competition is still very much open for grabs. All that needs to be decided now is whether or not I can be bothered working out a draw for the FA Cup that works!

Here's to Les Ferdinand falling down the stairs over the weekend.


| POS | TEAM | PTS | SC | |
| --- | --- | --- | --- | --- |
| 1 | CRUMBS DM | 587 | 39 | |
| 2 | KEANE AS MUSTARD | 566 | 39 | |
| 3 | SALFORD STROKERS | 552 | 49 | |
| 4 | SUPERSONIC FC | 551 | 45 | |
| 5 | 1FC LAUNDROMAT | 544 | 40 | |
| 6 | GAZTON VILLA | 537 | 41 | |
| 7 | SPAKATAK TOXTETH | 527 | 32 | |
| 8 | FECK-ARSE-NIL | 520 | 33 | |
| 9 | RÓISÍNS XI | 506 | 37 | |
| 10 | LUKE PERRY ALL-STARS | 450 | 47 | |
| 11 | 1897 - THE GOLDEN YEAR | 488 | 33 | |
| 12 | TORPEDO BERMONDSEY | 486 | 31 | |
| 13 | THE DARLING DUBS THAT PLAY | 466 | 9 | |
| 14 | SOFT CENTRES | 462 | 22 | |
| 15 | PATRICK DUFFY THISTLE | 450 | 26 | |
| 16 | AOIFE'S XI | 448 | 29 | |
| 17 | CLINT BIZZELL JUNIORS | 447 | 35 | |
| 18 | ATHLETICO SALFORD | 432 | 38 | |
| 19 | CRAZYHORSE FC | 430 | 34 | |
| 20 | BILL S PRESTON NORTH END | 423 | 36 | |
| 21 | A TASTE OF THE RAJ | 417 | 47 | |
| 22 | BIRMINGHAM SHITTY | 416 | 14 | |
| 23 | LION OF VIENNA SLEEPS TONIGHT | 414 | 36 | |
| 24 | BILLY'S BOOTS | 412 | 34 | |
| 25 | WOODBOURNE ROVERS | 409 | 9 | |
| 26 | WHATEVER | 385 | 36 | |
| 27 | LONE RANGERS RETURN | 372 | 24 | |
| 28 | HICKY'S HEROES | 348 | 38 | |
| 29 | DUCK UTD | 344 | 25 | |
| 30 | OH SHEFFIELD | 202 | 3 | |