BARRY FRIED AS ASH SLUMPS
---
Hell have no fury like a team manager that's been scorned and that seems to be the case this week as those who were singled out by Ash for criticism have bounced back with their highest totals of the season.

Biggest scorer of the week was Gazton Villa who hit 85, a score that moves the fat one's side into the Top Ten for the first time since records began (I got hit on the head with a ball several times at the weekend and, to be honest with you, I can't really remember whether or not Gary has been in the Top Ten before so am just assuming that he hasn't). Michael Bolton Wanderers also scored well to put them in seventh place while Crazyhorse FC moved up to 15th after notching up 77 points, thanks largely to a good performance in midweek by everyone except Ole Gunnar Solskjaer.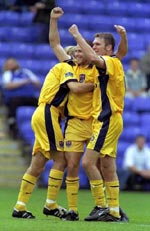 Lucas Neill celebrates his goal during Millwall's 4-1 win over the Posh

The Luke Perry All-Stars are still out in front with 290, just six points ahead of Billy's Boots who have moved into second place ahead of Fletch and his Freakin' Last XI. Karen drops to 4th and St. Reatham FC have moved into 5th.

But along with the winners there must be losers. None more so than Patrick Duffy Thistle who seem to be adrift at the foot of the table with 136 points - this is largely due to the fact that several of Cory's side have yet to score a single point in this year's competition. Lowest scorers of the week were Rushden Anne Diamonds with 16.

The Dreamteam takes a break next week as England play Germany at Wembley but this weekend's scores should be up sometime before October 14th, which just happens to be my birthday…cards, money and pressies to the usual address.

That's it for this week, except to say thanks to Ash for his "amusing" report last week. Nice to see his prediction about Peterborough United beating Millwall went arse up...

Cheers.
| POS | TEAM | PTS | SC |
| --- | --- | --- | --- |
| 1 | LUKE PERRY ALL-STARS | 290 | 41 |
| 2 | BILLY'S BOOTS | 284 | 64 |
| 3 | FREAKIN' LAST | 279 | 57 |
| 4 | DUCK UTD | 276 | 40 |
| 5 | ST. REATHAM FC | 267 | 64 |
| 6 | CRUMBS DM | 266 | 39 |
| 7 | MICHAEL BOLTON WANDERERS | 263 | 79 |
| 8 | SUNDAY STROOLERS | 260 | 40 |
| 9 | SUPERSONIC FC | 239 | 34 |
| 10 | GAZTON VILLA | 238 | 85 |
| 11 | THE PORCELAIN HORSE | 236 | 54 |
| 12 | SHAMROCK UNITED | 230 | 42 |
| 13 | LION OF VIENNA SLEEPS TONIGHT | 227 | 52 |
| 14 | BILL S PRESTON NORTH END | 226 | 50 |
| 15 | CRAZYHORSE FC | 212 | 77 |
| 16 | SPAKATAK TOXTETH | 211 | 60 |
| 17 | A TASTE OF THE RAJ | 195 | 33 |
| 18 | TORPEDO BERMONDSEY | 191 | 66 |
| 19 | THE LONE RANGERS | 189 | 60 |
| 20 | VILLA REJECTS | 175 | 43 |
| 21 | 1897 - THE GOLDEN YEAR | 172 | 54 |
| 22 | ATHLETICO SALFORD | 170 | 35 |
| 23 | RUSHDEN ANNE DIAMONDS | 164 | 16 |
| 24 | BIRMINGHAM SHITTY | 154 | 31 |
| 25 | SOFT CENTRES | 146 | 28 |
| 26 | PATRICK DUFFY THISTLE | 136 | 25 |