THE MAN WITH THE TWISTED LIP
---
Holmes paced the room slowly, deep in thought, as I slowly read out the latest standings from the Fantasy Association Soccer game that had been sent to us by telegram. He seemed concerned and increasingly puzzled as I continued but he did not say a word until I had finished.

"What's wrong, Holmes?" asked I, hoping to get an invaluable insight into the mind of this criminal genius.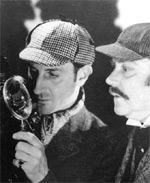 No matter how hard Holmes looked at the table, Crazyhorse FC still only scored -4...

"Something sinister is afoot, Watson" he replied.

"How so?"

"I never expected Crazyhorse FC to take such a downturn in fortune. It does not make sense, Watson. They should be performing much better than this but I am at a loss. I fear they have been "nobbled" by a member of the criminal classes."

"Who could possible want to influence the outcome of the competition?"

"There can be only one suspect and that is Mr Ashish Shah, a not very clever criminal but a criminal none-the-less. His fall from grace just a couple of weeks ago obviously filled him with resentment and he has plotted his way back to the top. His score of 45 points may not be the highest but it was enough for him to return to his position, eight points more than other fellow who is rather keen on a special brand of mustard"

"I see Holmes. But what of the other sixteen teams that are above Crazyhorse FC? They surely all cannot be part of the conspiracy?"

"I'm not sure, Watson. If we take a closer look we will see that each individual team has their own interests at heart. Take the third place team from Toxteth. They seemed to have managed to stay in the money despite only scoring five points, allowing the Soft Centres to close the gap. And that makes me even more suspicious. Are they trying to throw it all away? Have they taken a bung? We have three strands, Watson, and one of them is broken."

I took in all he had to say and began to understand his way of thinking. "So the Soft Centres are innocent?"

"NO! They are far from innocent, Watson. They are in fact very guilty. They are meant to be the weakest of the three teams entered by Mr Ronald Bevis Voce of Tiverton but look at them, they are fourth. It doesn't make sense."

"And the rest?" asked I.

"Hicky's Heroes have aroused my suspicions too. They have been progressing well over the past few months after a poor start but now, when their Fair Play Award was in doubt they have suddenly put the brakes on and scored a paltry three points to remain in 15th place. Doesn't that strike you as odd?"

"Why, yes Holmes."

"And Crazyhorse, they scored minus four points. This not possible surely?"

"Well, he did have Ledley King in defence, Holmes" I countered.

"Shut up, Watson! I'm thinking."

His pace quickened as his eyebrows scrunched together, displaying deep thought.

"No, it doesn't make sense. Such a poor score just is not possible, especially since the Darling Dubs That Play managed to muster a high of 64 to move up to 16th. This team, remember, were below Crazyhorse FC. And the Clint Bizzell Juniors, they scored a surprising 44 to shake the dust off their boots at the bottom."

"I see."

"And the Lone Rangers Return? A score of minus three just to reach the bottom of the table? Only eight points separate them and Oh Sheffield which again leads me to think that something is amiss."

"So what is your explanation, Holmes?"

He turned to me, facing away from the fire, and looked me in the eye.

"Elementary, my dear Watson, the table is upside down…"


| POS | TEAM | PTS | SC | |
| --- | --- | --- | --- | --- |
| 1 | CRUMBS DM | 1368 | 45 | |
| 2 | KEANE AS MUSTARD | 1360 | 25 | |
| 3 | SPAKATAK TOXTETH | 1201 | 5 | |
| 4 | SOFT CENTRES | 1190 | 23 | |
| 5 | 1897 - THE GOLDEN YEAR | 1184 | 50 | |
| 6 | SUPERSONIC FC | 1157 | 11 | |
| 7 | RÓISÍNS XI | 1155 | 37 | |
| 8 | SALFORD STROKERS | 1152 | 27 | |
| 9 | 1FC LAUNDROMAT | 1152 | 10 | |
| 10 | AOIFE'S XI | 1139 | 55 | |
| 11 | TORPEDO BERMONDSEY | 1125 | 38 | |
| 12 | GAZTON VILLA | 1114 | 26 | |
| 13 | ATHLETICO SALFORD | 1099 | 17 | |
| 14 | FECK-ARSE-NIL | 1044 | 12 | |
| 15 | HICKY'S HEROES | 1031 | 3 | |
| 16 | THE DARLING DUBS THAT PLAY | 1020 | 64 | |
| 17 | BIRMINGHAM SHITTY | 1006 | 9 | |
| 18 | LUKE PERRY ALL-STARS | 1001 | 14 | |
| 19 | CRAZYHORSE FC | 963 | -4 | |
| 20 | WHATEVER | 953 | 15 | |
| 21 | CLINT BIZZELL JUNIORS | 933 | 44 | |
| 22 | LION OF VIENNA SLEEPS TONIGHT | 931 | 18 | |
| 23 | PATRICK DUFFY THISTLE | 925 | 11 | |
| 24 | WOODBOURNE ROVERS | 916 | 18 | |
| 25 | BILL S PRESTON NORTH END | 916 | 4 | |
| 26 | BILLY'S BOOTS | 914 | 18 | |
| 27 | A TASTE OF THE RAJ | 838 | 14 | |
| 28 | DUCK UTD | 776 | 24 | |
| 29 | LONE RANGERS RETURN | 645 | -3 | |
| 30 | OH SHEFFIELD | 637 | 11 | |