FIGHTING WAR HORSE MOUNTS FINAL CHALLENGE
---
The Internet is a funny old thing. Last season all we had to worry about was whether the Ops Department at QVC was reading my emails. This year, things have been completely different and our little league has quite the eye of a number of observers from around the globe.

It all started with a mad Russian called Evengy, who wanted us to browse his holiday pics, then we had a casual observer from up north wondering if we had any scores for Steve Watson throughout the season. Last week we hit an all time high when a Dr Diego Franciotta from Italy emailed to ask why his name came up on our site while he was conducting an Internet search for his own medical journals. Then to cap it all off, I learned at Nity's wedding on Saturday that most of Ron's company have been "tuning-in" throughout the season to see how crap Voce's sides are doing…

So, before I start, I'd just like to say a big hello to all our guests from overseas. Hello.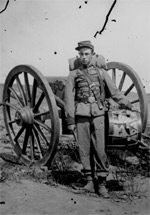 Having lost the early battle, young Callum was determined to win the war...

Anyway, back to action. The big news is that the rise The Porcelain Horse continues. Despite having had a poor start to the season, reigning champion Callum is refusing to surrender his title without a fight, and although he looks "out on his feet", this old war horse is hanging for dear life as we enter the final run in. It is very unlikely that he'll be able to mount a challenge for the title but he looks comfortable in 8th place with a money spot well within his grasp.

It will come as no surprise to learn that Karen is still top of the League. The same can't be said for Teddy Sheringham, however. This week saw the Red Devil toppled from his pedestal as the Dreamteam's leading scorer by none other than Ipswich Town's Marcus Stewart, which could prove decisive come the end of the season. That said, Duck Utd still have a comfortable points cushion to fall back on and it's going to take something extra special to knock her off her perch.

Elsewhere, Ron's colleagues at Riverdeep will be pleased to know that his top side, Bill S Preston North End, have fallen out of the money and into fifth spot, with the Sunday Stroolers replacing them in fourth. Of course, he still looks like the odds on fav to pick up the wooden spoon with the Soft Centres, especially after Dave Nicholson's masterstroke of replacing the injured Gareth Southgate with the in-form Ugo Ehgiou.

It was a high scoring week, with many sides notching up over thirty points but the Sunday Stroolers and Torpedo Bermondsey did better than most, with both sides scoring 59 points. At the other end of the scale, Gazton Villa had a very bad week and could only muster six paltry points. Out of the Cup and performing badly in the league, it looks like Gary's season is filtering out ever so slowly…

The results from the Second Round of the Cup will be published tomorrow. Until then, here's the table.