SCANDAL ROCKS DREAMTEAM!
---
After just three months of play, the Dreamteam's very existence has been threatened by not one but FOUR scandals that have plunged a knife through the very heart of the competition. Strange going-ons behind closed curtains have rocked this peaceful community and all is not what it first seems.

Scandal One
Our undercover reporter met with Stand-up Comedian and funky dancer Gary Delaney in a drinking hole in the West End, popular with villainous types and theatre-goers alike after receiving an anonymous tip-off claiming that the manager of Gazton Villa was passing off other people's gags as his own. At first, Delaney seemed unconcerned at the allegations but as our reporter pried further into his life, he broke down and admitted everything. He did indeed steal a gag used by a Mr Ashish Shah of London just three weeks before. The inconsolable Delaney then offered to run through his entire routine to prove that he could indeed come up with an original gag but our reporter politely refused, made his excuses and left to the cries of the Gazton Villa boss claiming that it had all been "one big mistake".

Scandal Two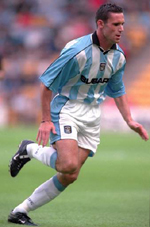 Cedric Roussel - scorer of that all important goal against Chelsea last week

If that wasn't enough, Billy's Boots are feeling discontented with their scores over the past few weeks. According to one source, who shall remain nameless but who can sure move, the AV Dept approached him in the corridors of the LSE to complain about their lack of movement - having scored just four points over a two week period. It seems they don't trust the scoring system that everyone else finds so fair. Needless to say, the Dreamteam Webmaster was hurt by these allegations and hit back by saying "Itsh not my fault - hic - that their teamsh sho shite". They'll be happy to note that they are finally moving in the right direction this week having scored 38 points to move back into the Top Ten…

Scandal Three
We don't have many morals but fair play is one we all stand by. Or so we thought. But it appears that a young Irish lad at the LSE has become a bit cocky of late. Every time a fellow competitor passes by, he insists on taunting them. Hopefully his campaign will follow Ash's last year and go tits-up in the penultimate week, thus insuring that he misses out on the money. We can but hope as said manager is sitting proudly on top of the table this week with an impressive 407 points closely followed by the chasing pack led by Duck Utd on 404. Apparently Gary never got his purple shirt ironed but that's another story.

Scandal Four
Finally, we have the scandal that will surely rock the Dreamteam to its foundations. Having spent the last millennium at the bottom of the pile, Cory thought it would be funny to MOVE UP THE TABLE. A splendid score of 32 was enough to leapfrog over Ron's third team the Soft Centres…Perhaps his team finally have woken up in the shower to realise that yes, all along, it was just a bad dream.

Scores on the doors follow and thanks to Jimmy Floyd Hasslebaink, a gap has developed between the top and bottom half of the table.

Cheerio.