ASH GETS HIS SUMS WRONG
---
Poor Ash. He was so sure that he was top after the first week that he went and emailed me to say he expected lots of honourable mentions in my report. Unfortunately for him, Crumbs DM could only manage 6th place with a score of 61 points…

Top after just one week is Dreamteam newcomer Richard Mulcahy and his Sunday Stroolers who amassed 76pts from just two games, largely thanks to that young whipper-snapper Alan Smith who has just been called up to the England squad. In second place is yet another Dreamteam newcomer, Shamrock United. Liz's gallant lads have 68 pts, about thirty more points than both of Fletch's selections, while closely behind is Simon Stoker with 65pts. Glad to see that the Luke Perry All-Stars have put last year's disappointing season behind them…having said that, Simon was an early leader last year…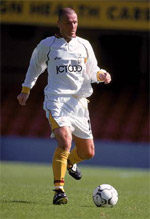 He did feck all last year - must be the haircut

In fourth and fifth place respectively we have Supersonic FC, managed by Nic, and Duck Utd, steered by Karen. The less said about these two teams the better for all concerned.

In last place we have trusty (or should that be crusty) old Ron Voce. The Soft Centres - the third of Mr Voce's "all-conquering" trio - managed just 17 points. The real surprise of this however was the fact that his top-scoring player was none other than LEE SHARPE! Having done sod all last year, he scored 8pts in one week, a third of what he managed for the entire season while with Crazyhorse FC. The change has obviously done him good.

Elsewhere, there are three players tied on 45 points - Crazyhorse FC, St. Reatham FC and Villa Rejects. Normally positions would be determined by who scored highest that week, but because this is the first week of the campaign, I've decided to list these teams alphabetically. Which means I'm in 8th place…

Oh, and for some reason, Freakin' Last seems to like 11th place cos that's where they finished last year. Still, that doesn't explain why Fletch's other team is in 12th…

There are no fixtures this week because of the internationals, which means I'll be able to publish an up-to-date table on Monday. Hurrah. Anyway, here's where you all stand. Ash, don't take it too badly mate.
| POS | TEAM | PTS |
| --- | --- | --- |
| 1 | SUNDAY STROOLERS | 76 |
| 2 | SHAMROCK UNITED | 68 |
| 3 | LUKE PERRY ALL-STARS | 65 |
| 4 | SUPERSONIC FC | 63 |
| 5 | DUCK UTD | 62 |
| 6 | CRUMBS DM | 61 |
| 7 | BILLY'S BOOTS | 52 |
| 8 | CRAZYHORSE FC | 45 |
| 9 | ST. REATHAM FC | 45 |
| 10 | VILLA REJECTS | 45 |
| 11 | FREAKIN' LAST | 43 |
| 12 | 1897 - THE GOLDEN YEAR | 39 |
| 13 | THE PORCELAIN HORSE | 38 |
| 14 | THE LONE RANGERS | 37 |
| 15 | MICHAEL BOLTON WANDERERS | 36 |
| 16 | BILL S PRESTON NORTH END | 35 |
| 17 | GAZTON VILLA | 33 |
| 18 | A TASTE OF THE RAJ | 31 |
| 19 | LION OF VIENNA SLEEPS TONIGHT | 31 |
| 20 | SPAKATAK TOXTETH | 30 |
| 21 | BIRMINGHAM SHITTY | 28 |
| 22 | RUSHDEN ANNE DIAMONDS | 27 |
| 23 | ATHLETICO SALFORD | 24 |
| 24 | TORPEDO BERMONDSEY | 24 |
| 25 | PATRICK DUFFY THISTLE | 20 |
| 26 | SOFT CENTRES | 17 |
Back to reports