SIBLING RIVALRY
---
Okay, perhaps you all misunderstood me last week. What I actually said was that I would "offer a substantial award for Les's head". What I didn't say was "Let Wor Les score the 1000th Premiership goal"…

Anyway, enough of the big, bumbling Number 9, lets instead turn our attentions to the Fletcher siblings, Nicholas and Justine, who both scored well this week to leave their mark on the table. Jay outdid her older brother somewhat by notching up her highest score of the competition - 70 points - to move up nine to 16th while Nick's golden shower managed a respectable 41 to climb to 6th. Mrs Fletcher, however, could not match her offspring's efforts and remains in the bottom ten.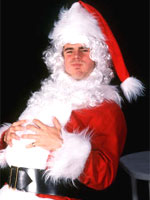 Jamie Redknapp proves once and for all just how much of a wanker he really is...

Elsewhere, Torpedo Bermondsey and the Luke Perry All-Stars continue to swap places and once again have switched positions for the umpteenth week running. Neither team seems to want to move into the Top Ten. Perhaps they're both waiting for the run-in before they make their move, kinda like Manchester United and Chelsea, eh Dunc?

Birmingham Shitty had a good week, scoring the second highest total with 58 points, just enough to move Dave up to 17th. Hicky's Heroes continue to make good progress and are gradually closing the gap between themselves and those immediately above but Cory is in for a shook. Having held on to 15th spot for the last six years, they've suddenly lost their way and have fallen five with the Clint Bizzell Juniors leapfrogging Patrick Duffy Thistle to replace him.

There's no change at the top with the leading pack staying as you are although Crumbs DM can feel pleased with their performance this week as they continue to make daylight between themselves and second place. Ash has, however, expressed some concern over Thierry Henry's outburst on Tuesday, which could see the striker banned for the rest of the season. Okay, so I made that bit up but it would be nice to think that it could happen…

More fun and games next week - hopefully at the expense of Robbie Fowler, who, overnight, has become the next Les Ferdinand. Still, for every Robbie Fowler, there's a Lee Bowyer sitting in the stands.

The next update won't be for a while as I'm off to celebrate Christmas. Details of the Dreamteam Cup competition will be released later followed by the First Round Draw. Hopefully you'll all be so confused that I'll walk off with my first piece of silverware…See you in the New Year.


| POS | TEAM | PTS | SC | |
| --- | --- | --- | --- | --- |
| 1 | CRUMBS DM | 783 | 50 | |
| 2 | KEANE AS MUSTARD | 732 | 39 | |
| 3 | 1FC LAUNDROMAT | 721 | 32 | |
| 4 | SUPERSONIC FC | 713 | 28 | |
| 5 | SPAKATAK TOXTETH | 685 | 26 | |
| 6 | 1897 - THE GOLDEN YEAR | 670 | 41 | |
| 7 | GAZTON VILLA | 663 | 29 | |
| 8 | SALFORD STROKERS | 660 | 4 | |
| 9 | FECK-ARSE-NIL | 657 | 28 | |
| 10 | RÓISÍNS XI | 657 | 24 | |
| 11 | TORPEDO BERMONDSEY | 650 | 48 | |
| 12 | LUKE PERRY ALL-STARS | 630 | 23 | |
| 13 | SOFT CENTRES | 594 | 28 | |
| 14 | AOIFE'S XI | 561 | 35 | |
| 15 | CLINT BIZZELL JUNIORS | 561 | 26 | |
| 16 | WHATEVER | 556 | 70 | |
| 17 | BIRMINGHAM SHITTY | 546 | 58 | |
| 18 | ATHLETICO SALFORD | 546 | 30 | |
| 19 | THE DARLING DUBS THAT PLAY | 543 | 28 | |
| 20 | PATRICK DUFFY THISTLE | 543 | 16 | |
| 21 | BILL S PRESTON NORTH END | 539 | 31 | |
| 22 | BILLY'S BOOTS | 533 | 40 | |
| 23 | CRAZYHORSE FC | 533 | 23 | |
| 24 | WOODBOURNE ROVERS | 526 | 20 | |
| 25 | LION OF VIENNA SLEEPS TONIGHT | 521 | 31 | |
| 26 | A TASTE OF THE RAJ | 496 | 23 | |
| 27 | HICKY'S HEROES | 481 | 40 | |
| 28 | LONE RANGERS RETURN | 442 | 22 | |
| 29 | DUCK UTD | 411 | 14 | |
| 30 | OH SHEFFIELD | 262 | 28 | |