THAT'LL TEACH NEIL TO GET MARRIED
---
Subject to confirmation by Neil, please find below the final places in the DreamTeam66 for this season. For those of you who are expecting a pithy end of season comment, you obviously don't remember any of my articles and editorials for The Beaver.
In this week's movers and shakers, Shamrock Utd appeared to have scored a massive 200 plus points to bounce into first place. However a rerun through the very hard to read faxed page of scores saw a little recalculation downwards of their score. Similarly Birmingham Shitty appear to have lost 49 points, even after a double check on their scores. They have a * by their scores as I think they might be dubious, but after treble checking the scores I feel they are correct.
Even so, however much I tried I was unable to move my 3 teams into money scoring positions. The Lion of Vienna Sleeps Tonight still managed to hang on to the Fair Play award, which was nice. As was Tiverton Towns promotion to the Dr Martins Premier League and Bolton Wanderer's promotion back to the Premiership.
The Villa Rejects showed why Deadly Doug Ellis was wise to let them all go and allowed Dave Nicholson take over the Wooden Spoon from Taste of the Raj. Damm you Michael Owen!
None of the top 4 teams changed places so that left Freakin Last in 4th holding off Bill S Preston North End in the play off position (That sounds familiar!). The early season leader Duck Utd just managed to hang on to make it into Europe, whilst St. Reatham FC couldn't quite close the gap on to the Luke Perry All Stars.
Last seasons winner Callum will hand over the trophy when he returns from his travels. For those of you who want your winnings, go see the manager of Gazton Villa as he is treasurer to the league. No doubt Neil, bronzed, tanned and extremely well married will update this page on his return. It's only a few weeks before the season starts again and personally I can't wait!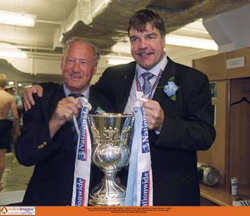 Big Sam hands over the Fair Play trophy to the "Lion of Vienna
NB: The table below has now been adjusted and represents the final standings for the 2000/01 season.