TWO FOR JUAN
---
There were surprisingly few high scores this week, considering the number of games played in the last seven days, and only two teams managed to get over thirty points. Torpedo Bermondsey just managed to scrape clear with 31 points while 1897 - The Golden Year made the most of the games on offer by notching up a respectable 49 points.

Elsewhere it was a week that Oh Sheffield would rather forget - together with the entire season by the looks of things as they went into reverse and recorded a score of -2. A Taste of the Raj could only manage a paltry 8 while Hicky's Heroes just about got into double figures with a score of 10.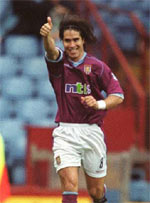 You've got the sweetest little Angel face...

At the top, Crumbs DM are still in front with 476 with Keane As Mustard in second with 445 but the big news of the week is the emergence of Supersonic FC who have moved up to third.

While the rest of us have been moaning or gloating about the performances of our star players, Nic has gone about collecting the points thanks to the likes of Teddy Sheringham, David Beckham and Thierry Henry. If it wasn't for the somewhat unsound advice of her official advisor at the beginning of the season, she may well have been top by now. That person will remain nameless and, thanks to his team's poor disciplinary record this week, in 19th place.

Birmingham Shitty continued their good run thanks to Juan Pablo Angel and Whatever achieved their highest position so far by moving into 22nd place. At the bottom, things are as you were for the bottom five, with none of them moving in either direction.

That's it for this week. Ash would like to point out though that he is glad Jimmy Floyd Hasselbaink won't be scoring anymore UEFA Cup goals for Chelsea this season and I would like to apologise for the length of this report but I've been playing football over the park. Roll on Christmas and the transfer window.


| POS | TEAM | PTS | SC | |
| --- | --- | --- | --- | --- |
| 1 | CRUMBS DM | 476 | 18 | |
| 2 | KEANE AS MUSTARD | 445 | 21 | |
| 3 | SUPERSONIC FC | 433 | 29 | |
| 4 | SALFORD STROKERS | 431 | 26 | |
| 5 | 1FC LAUNDROMAT | 431 | 15 | |
| 6 | GAZTON VILLA | 425 | 25 | |
| 7 | THE DARLING DUBS THAT PLAY | 424 | 18 | |
| 8 | SPAKATAK TOXTETH | 417 | 28 | |
| 9 | FECK-ARSE-NIL | 416 | 16 | |
| 10 | RÓISÍNS XI | 413 | 19 | |
| 11 | 1897 - THE GOLDEN YEAR | 405 | 49 | |
| 12 | TORPEDO BERMONDSEY | 391 | 31 | |
| 13 | LUKE PERRY ALL-STARS | 390 | 20 | |
| 14 | AOIFE'S XI | 380 | 18 | |
| 15 | SOFT CENTRES | 358 | 23 | |
| 16 | CLINT BIZZELL JUNIORS | 356 | 12 | |
| 17 | BIRMINGHAM SHITTY | 355 | 23 | |
| 18 | BILLY'S BOOTS | 351 | 27 | |
| 19 | CRAZYHORSE FC | 345 | 19 | |
| 20 | PATRICK DUFFY THISTLE | 337 | 21 | |
| 21 | BILL S PRESTON NORTH END | 332 | 26 | |
| 22 | WHATEVER | 320 | 17 | |
| 23 | WOODBOURNE ROVERS | 317 | 13 | |
| 24 | ATHLETICO SALFORD | 316 | 18 | |
| 25 | A TASTE OF THE RAJ | 315 | 8 | |
| 26 | LION OF VIENNA SLEEPS TONIGHT | 295 | 28 | |
| 27 | LONE RANGERS RETURN | 285 | 26 | |
| 28 | DUCK UTD | 277 | 28 | |
| 29 | HICKY'S HEROES | 246 | 10 | |
| 30 | OH SHEFFIELD | 154 | -2 | |