JUST LIKE TEDDY
---
Teddy Sheringham, what a player - still scoring goals at the tender age of 76 and proving that if you're good enough then you're young enough! And what's good for Teddy is absolutely superb for my, ahem, second team Supersonic FC.

The Sonics have leapt like a salmon out of water and into the top ten with a score of 72 points. This mighty rise was mirrored by last week's top scorers Billy's Boots, who fell nine places after failing to match their performance of last week, suggesting that not all is set in the world of the Dreamteam. To give it a Ron Atkinson-ism, it's still early doors and those that have been bobbins up to now can still turn it around and whack that donkey's backside with a banjo. Having said that, it's interesting to note that the previous two winners were both topping the table at this stage of the season…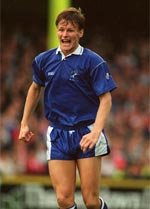 Teddy Sheringham. Jesus, those shorts look tight.

Good scores all round this week for those who had players in the Champions League while those who had defenders in the UEFA Cup fared badly. Birmingham Shitty took advantage of Oh Sheffield's poor scoring record of recent weeks to move off the bottom thanks to a brace from Pablo Juan Angel Tube Station. Oh Sheffield are now rooted to the bottom with a pathetic 65 points.

Germanic descendants 1FC Laundromat are now in second and along with Salford Stokers broke the 200-point barrier while Feck-Arse-Nil have moved into 3rd place with a score of 197. Gazton Villa are still fourth while Keane As Mustard drop to fifth.

Other high scorers included the Soft Centres and The Darling Dubs That Play while those that had a nasty bump can count 1897 - The Golden Year amongst their crowd. Fletch's team fell ten places to 20th having scored just 23 points.

Scores are up on last year - with maybe the exception of Oh Sheffield - and with more European action this week, those lower down the table could gain ground on those at the top. With any luck, we'll have our most competitive season yet and Ash still won't win anything. Hell, he couldn't even beat me last year so what chance as he got…

That's pretty much it for this week. For those that want to gape at everyone else's line-ups, I'll hopefully be able to get everyone's teams up on the site before the end of the week. Also, I will be gleefully accepting an offers from those that wish to write a report from this moment on.

Thank you so much, cos as big Ron once said, "Well, either side could win it, or it could be a draw."


| POS | TEAM | PTS | SC | |
| --- | --- | --- | --- | --- |
| 1 | SALFORD STROKERS | 218 | 37 | |
| 2 | 1FC LAUNDROMAT | 211 | 62 | |
| 3 | FECK-ARSE-NIL | 197 | 62 | |
| 4 | GAZTON VILLA | 182 | 36 | |
| 5 | KEANE AS MUSTARD | 181 | 30 | |
| 6 | RÓISÍNS XI | 172 | 41 | |
| 7 | SOFT CENTRES | 171 | 58 | |
| 8 | CRUMBS DM | 171 | 50 | |
| 9 | SUPERSONIC FC | 166 | 72 | |
| 10 | AOIFE'S XI | 166 | 64 | |
| 11 | SPAKATAK TOXTETH | 166 | 56 | |
| 12 | LUKE PERRY ALL-STARS | 164 | 57 | |
| 13 | TORPEDO BERMONDSEY | 159 | 50 | |
| 14 | BILLY'S BOOTS | 159 | 23 | |
| 15 | PATRICK DUFFY THISTLE | 152 | 32 | |
| 16 | ATHLETICO SALFORD | 144 | 34 | |
| 17 | THE DARLING DUBS THAT PLAY | 143 | 64 | |
| 18 | WOODBOURNE ROVERS | 142 | 44 | |
| 19 | LION OF VIENNA SLEEPS TONIGHT | 137 | 35 | |
| 20 | 1897 - THE GOLDEN YEAR | 137 | 23 | |
| 21 | LONE RANGERS RETURN | 132 | 46 | |
| 22 | BILL S PRESTON NORTH END | 128 | 29 | |
| 23 | CLINT BIZZELL JUNIORS | 126 | 29 | |
| 24 | CRAZYHORSE FC | 125 | 32 | |
| 25 | A TASTE OF THE RAJ | 120 | 19 | |
| 26 | DUCK UTD | 108 | 15 | |
| 27 | WHATEVER | 104 | 30 | |
| 28 | HICKY'S HEROES | 103 | 17 | |
| 29 | BIRMINGHAM SHITTY | 90 | 41 | |
| 30 | OH SHEFFIELD | 65 | 5 | |