BOTTOMS UP
---
At the risk of sounding like Crystal Palarse's not very intelligent boss, Alan Smith, it's amazing what difference one goal makes. Take Dwight Yorke's "goal" from last week for example. Now, the Sun originally credited this to Ole Gunnar Solskjaer, as did a number of other newspapers, but because it took a "wild" deflection off of Yorke's backside, the Premier League's statisticians have decided to award it to the Trinidadian international. Normally I wouldn't be too bothered about this, because as Frank Bruno would say, "That's cricket, Harry", but this week it really annoyed me. Why? Because it robbed me of five points and stopped Crazyhorse FC from overtaking Ash in this week's table. Football can be such a cruel game…

Of course, Man United players have a habit of scoring vital goals with their backside. Jimmy Greenhoff, for example, is still the only man to score the winning goal in an FA Cup final with his behind, doing so in 1977. Some would put this down to luck, I would put it down to them being spawny gits and that goes for their fans too.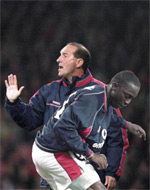 Alan Smith gives his answer to the question "What's 2+2?" just as Dwight Yorke gets his arse in the way again...

Yes, Ms Karen Wise is still top of the League and she doesn't look like giving up her top spot in the near future. The spawniest of the spawny, Karen has only ever listened to Gary once during their time together and that's when he had the misfortune to tell her that yes, Teddy Sheringham may be playing one or two more games this year. This slip of the tongue has left us all trailing in her wake and with only six weeks to go until the end of the season, it looks like she's there to stay. Gary, next time, just remember that loose lips sink the hopes of many a Dreamteam manager.

Having it said that, it was one of our many Aston Villa fans that was this week's top scorer, probably because he doesn't have a single Villain in his team. Yes, Freakin' Last, under the guidance of the genial Nick Fletcher, notched up a massive 61 points to move into fifth place, just one point behind Supersonic FC in fourth, opening up the chase for that final money spot.

The race for second place is also hotting up, with St. Reatham FC moving into the Runners-up spot ahead of the Luke Perry All-Stars thanks to an impressive score of 50. However, Mark is still eighty points behind Duck Utd. In 15th place this week is Athletico Salford but that's sure to change next week, as things are just too damn close in the middle of the table.

Safely assured of the wooden spoon is Dave Nicholson and his Villa Rejects, and unless his team of Aston cast-offs miraculously pulls off some kind of unwanted miracle, the tenner is safely in his pocket. Still, the Soft Centres are still putting up some sort of fight but they could do without the goalscoring exploits of Michael Owen and Kevin Phillips.

Prize monkeys at the Crappy Scoring Stool this week are Gazton Villa, Torpedo Bermondsey and Patrick Duffy Thistle, all of whom failed to reach double figures, with Gazton Villa being especially crap as it's the second week they've scored four points on the spin. But as I said at the beginning, football can be a cruel game, especially when your beloved is running away with it at the top.

That's it for this week. Thanks must go to the clever genius at Sports.com who decided to hold a management meeting this afternoon, allowing me to get the report up on the site before the day was out…

Oh, and apparently Clare Devaney - no relation - is celebrating her birthday today and I'm told there's plenty of candles on top of the cake to leave her chest heaving and her good self short of breath.

Here's the table….