YOU WIN SOME 5-1,
YOU LOSE SOME 5-1
---
Football. It's a funny old game. One minute your team is winning 5-1, the next they're being thumped by the very same score line. What's a manager to do? The referees hardly help by sending off the wrong players. Come the end of the season, those three points could make all the difference between claiming a prize and going home empty handed.

But there's a long, long way to go and as Ash knows, it isn't over until the fat lady sings. Of course, for Oh Sheffield the fat lady has done three encores, changed clothes and gone home for the evening but while Oh Sheffield flounder at the bottom, Hicky's Heroes have decided to fight on until the bitter end. An impressive score of 89 points moved them up the table and saw them finish the week as top scorers. If they carry on like this a top ten finish isn't out of the question.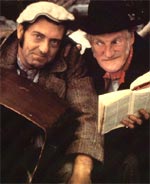 Ron and Dave were quite pleased when they checked this week's scores

The same goes for Birmingham Shitty, who have turned their season around and are beginning to record some encouraging scores. A strong 87 this week sees them move up to 16th. Hopefully they won't take their League from into the Cup this weekend as they are facing Crazyhorse FC…

At the top, Rob regained third spot against the odds and now lead Spakatak Toxteth by two points while 1897 - The Golden Year remain in 5th just a further four points behind. The top two are still fighting it out with Ash increasing his lead ever so slightly.

Elsewhere, Roisins XI stormed their way into the Top Ten with a score of 76 while the Soft Centres consolidated their recent run with another move up the table. Anyone of the Top Fifteen could still make a serious challenge but if they are going to pose a threat, they'd better make their move pretty soon…

That's it for this week. Tomorrow sees the Second Round of the Dreamteam Cup with the remaining 16 teams all gunning for glory. Results will be published next week. Until then, take care of yourselves and each other.

Here's the table.


| POS | TEAM | PTS | SC | |
| --- | --- | --- | --- | --- |
| 1 | CRUMBS DM | 1089 | 56 | |
| 2 | KEANE AS MUSTARD | 1054 | 53 | |
| 3 | 1FC LAUNDROMAT | 948 | 39 | |
| 4 | SPAKATAK TOXTETH | 946 | 37 | |
| 5 | 1897 - THE GOLDEN YEAR | 942 | 54 | |
| 6 | SUPERSONIC FC | 903 | 53 | |
| 7 | TORPEDO BERMONDSEY | 889 | 42 | |
| 8 | RÓISÍNS XI | 884 | 76 | |
| 9 | SOFT CENTRES | 870 | 54 | |
| 10 | GAZTON VILLA | 869 | 36 | |
| 11 | SALFORD STROKERS | 867 | 41 | |
| 12 | FECK-ARSE-NIL | 829 | 54 | |
| 13 | AOIFE'S XI | 828 | 52 | |
| 14 | ATHLETICO SALFORD | 812 | 41 | |
| 15 | LUKE PERRY ALL-STARS | 806 | 37 | |
| 16 | BIRMINGHAM SHITTY | 793 | 87 | |
| 17 | WHATEVER | 784 | 32 | |
| 18 | CRAZYHORSE FC | 759 | 36 | |
| 19 | THE DARLING DUBS THAT PLAY | 57 | 55 | |
| 20 | CLINT BIZZELL JUNIORS | 747 | 24 | |
| 21 | LION OF VIENNA SLEEPS TONIGHT | 740 | 40 | |
| 22 | BILL S PRESTON NORTH END | 739 | 19 | |
| 23 | HICKY'S HEROES | 735 | 89 | |
| 24 | BILLY'S BOOTS | 723 | 34 | |
| 25 | PATRICK DUFFY THISTLE | 723 | 21 | |
| 26 | WOODBOURNE ROVERS | 670 | 28 | |
| 27 | A TASTE OF THE RAJ | 625 | 27 | |
| 28 | DUCK UTD | 558 | 13 | |
| 29 | LONE RANGERS RETURN | 524 | 12 | |
| 30 | OH SHEFFIELD | 470 | 39 | |