SOMETHING ROTTEN IN THE STATE OF DENMARK
---
As regular competitors of the Dreamteam know, I have a bee in my bonnet about the way they score player ratings in the Sun. Last season, for example, Ian Harte was commonly known amongst the Dreamteamers as Harte6 because of his inability to score seven or above. In the grander scheme of things, Ian Harte's rating is not that important but it really pisses me off when you suddenly discover that you weren't competing on a level playing field after all. As it turns out, this year's World Cup competition was won and lost on the approval rating of one player and one player alone. And there wasn't a dodgy linesman in sight.

If you had Ronaldo, well done. If you transferred Ronaldo into your team after the first round, even better, because the buck-toothed wonder somehow managed to score 110 points in four games (which works out at a ratio of 27.5 points per game) and this dodgy stat is reflected in the table standings. 1897 - Le Golden Year managed to finish 8th on the strength of Ronaldo's score (which is even more remarkable in light of the fact that only four of his team reached the Quarter-finals) while the highest finish for a Ronaldo-less team was fifth.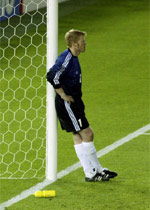 The wrath of Kahn. Ho ho ho

Now, some of you may think that I'm being incredibly picky and something of a sore loser (well, that too), but if you take a look a the following comparisons over the same period of games you'll see that something strange is afoot at the Circle K:


| | |
| --- | --- |
| Ronaldo: | 110 points from four games |
| Rivaldo: | 56 points from four games |
| Ballack: | 37 points from three games |

It's a bit odd that Ronaldo scored one goal more than Rivaldo in the knock out stages and still managed to nearly double his score.

And it doesn't end there. The Turks were full of Eastern Promise it seems, as star names like Recbar (7 points in the first three games, 46 points from the last four) and Suker (How on earth did he score 32 points with his dire performances?) romped to third place. Even worse, how can the Sun count the third/four play-off game as a part of the competition? (Rules stated that your players would score points until they were knocked out).

I despair, I really do. Anyway, You Basturks! won, International Campions came second and Cheeky Monkey FC came third with a Taste of the International Raj picking up the bogey prize of Wooden Spoon for the second time in their distinguished playing career.

Finally, a big thank you to all of you that sent me a copy of the Sun's Dreamteam ratings from their website. I would have used them, but they kindly forgot to include player ratings from the transfer window onwards.

Still, at least England went home with a whimper. Again.

Here are the final standings.


| POS | TEAM | PTS | SC |
| --- | --- | --- | --- |
| 1 | YOU BASTURKS! | 479 | - |
| 2 | INTERNATIONAL CAMPIONS | 468 | - |
| 3 | CHEEKY MONKEY FC | 446 | - |
| 4 | KANU DIG IT | 391 | - |
| 5 | SAY KONICHIWA, WAVE SAYONNARA | 378 | - |
| 6 | THE SCHOOLBOY ERRORS | 365 | - |
| 7 | SWEDISH PORNSTARS | 317 | - |
| 8 | 1897 - LE GOLDEN YEAR | 307 | - |
| 9 | FECK ARSE NIL FC | 291 | - |
| 10 | FROM RUSSIA WITH GLOVES | 285 | - |
| 11 | THIERRY HENRY'S CAT | 257 | - |
| 12 | SUKER PUNCH | 219 | - |
| 13 | A TASTE OF THE INTERNATIONAL RAJ | 180 | - |