Don't mess with my Mutu
---
How any of you expect me to write a report when both my teams are lying first and second in the table is beyond me, but I'll give it my best shot and try not to gloat too much. After all, it's a marathon not a sprint and no one has ever won the League in August. Except Djurgårdens of the Swedish First Division, of course.

It has been a remarkable week of fantasy football. First Sunderland go and win two games in a row and then the Lion of Vienna Sleeps Tonight brings the football world to it's knees by moving off the bottom of the League for the first time in ten months. And if that wasn't enough, Crazyhorse FC defying all odds to go top of the league, thanks to the first hattrick of the season by Lord Edward of Sheringham. Crazyhorse FC were also top scorers with 95 points.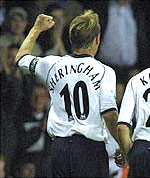 "Got your number"

Highest climbers of the week were Halesowen Harriers, who benefited from some poor marking in the Wolves defence (that won't be the last time that I say that) and saw John O'Shea score the only goal of the match. Their rise into the top five was mirrored by Nil by Portsmouth's fall, who fell fourteen places. Despite this drop, they're still in the Top Twenty, but only by the skin of their teeth. Other movers of note include Liverpoo, who notched up 65 points, and Whatever 3 - The Rise of the Machines who scored 60.

Goal of the week has to go to Anelka for his cheeky effort with the outside of his boot which caught Brad Friedel out at his near post, closely followed by Mutu's blaster against Leicester City, who seem to have borrowed their new away kit from the wardrobe department of 'We Are The Champions'.

That's all for this week. I'm still waiting to see a Tim Howard interview, but I'm sure 'On The Ball' will oblige. Although whether it's the Tourettes that makes him swear or the sheer incompetence of Gabby Logan and Andy Townsend remains to be seen.

Here's the table. Looks good, doesn't it?


| POS | TEAM | PTS | SCORE | |
| --- | --- | --- | --- | --- |
| 1 | CRAZYHORSE FC | 155 | 95 | |
| 2 | THE ALMIGHTY DUCKS | 120 | 59 | |
| 3 | COOKIE CREWE ALEXANDRA | 116 | 49 | |
| 4 | HEY BOBBY WHAT'S FRENCH FOR SECOND PLACE? | 111 | 46 | |
| 5 | HALESOWEN HARRIERS | 106 | 70 | |
| 6 | A TASTE OF THE RAJ | 104 | 51 | |
| 7 | CREATIVELY CHALLENGED | 101 | 71 | |
| 8 | KOPITESAREGOBSHITES | 96 | 48 | |
| 9 | BANTAM OF THE KOPERA | 93 | 51 | |
| 10 | LIVERPOO | 91 | 65 | |
| 11 | TIM HOWARD'S WAY | 89 | 41 | |
| 12 | WHO ATE ALL THE PRAWN SANDWICHES | 86 | 51 | |
| 13 | STROKE CITY | 81 | 50 | |
| 14 | CRUMBS DM | 81 | 42 | |
| 15 | NOTTING TOULOUSE | 80 | 54 | |
| 16 | WHATEVER 3 - THE RISE OF THE MACHINES | 79 | 60 | |
| 17 | CORNO TEAM | 78 | 45 | |
| 18 | SOFT CENTRES | 75 | 36 | |
| 19 | 1897 - THE GOLDEN YEAR | 73 | 41 | |
| 20 | NIL BY PORTSMOUTH | 73 | 23 | |
| 21 | BILL S PRESTON NORTH END | 71 | 41 | |
| 22 | DYNAMO DELIA | 71 | 32 | |
| 23 | SUSHI FC | 67 | 53 | |
| 24 | HARDWICK UNITED | 62 | 28 | |
| 25 | THE POOL XI | 60 | 35 | |
| 26 | FECKHAM | 56 | 41 | |
| 27 | BIRMINGHAM SHITTY | 52 | 34 | |
| 28 | LION OF VIENNA SLEEPS TONIGHT | 33 | 28 | |
| 29 | THE MIGHTY CRAICERS | 31 | 23 | |