Off to a flier!!
---
April 2000. That was the last time I reached the giddy heights of fourth place so pardon me if I sit here with a chuffed, self-satisfied smile on my face. Of course, with the benefit of 20/20 hindsight it could have been so much better but I won't look a gift horse in the mouth.

This year's Dreamteam competition got off to a flier at the weekend with all the big names scoring and those that went for Henry, Van Nistelrooy and A.N. Other benefited the most as the Top Two players from last season's campaign set their stalls out for this year's race for those bonus twenty points. Even so, two teams still somehow managed not to get out of double figures.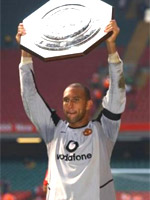 "Howdy. Feck... arse... knickers... have a nice day. Fecker."

The Lion of Vienna Sleeps Tonight may face some competition for last place this season from The Mighty Craicers but I may be in vain depending on how we decide to dish the money out. The Wooden Spoon Prize was called into question towards the end of last year and it may be replaced with a new booby prize - "The Man City Route into Europe Award".

At the top are the ironically titled Hey Bobby What is French for 2nd Place while following close behind is last season's ubermeister, Mark Darnbrook with Cookie Crewe Alexandra. The Almighty Ducks are in third with former-Wooden Spoon champions A Taste of the Raj bouncing back into the competition in fifth place. Rumours abound of a tough new coach being hired while they were away, but these have yet to be confirmedů

Tim Howard's Way ("feck, arse, girls, knickers etc") are close behind in sixth with Nil By Portsmouth and Bantam of the Kopera in seventh and eighth respectively.

However, it's early days yet and as everyone keeps telling me, it's a marathon, not a sprint but when your horse leads the field at the first fence of the National, you always think it's going to winů

Enjoy the season.


| POS | TEAM | PTS | SCORE | |
| --- | --- | --- | --- | --- |
| 1 | HEY BOBBY WHAT'S FRENCH FOR SECOND PLACE? | 65 | 65 | |
| 2 | COOKIE CREWE ALEXANDRA | 62 | 62 | |
| 3 | THE ALMIGHTY DUCKS | 61 | 61 | |
| 4 | CRAZYHORSE FC | 60 | 60 | |
| 5 | A TASTE OF THE RAJ | 53 | 53 | |
| 6 | TIM HOWARD'S WAY | 48 | 48 | |
| 7 | NIL BY PORTSMOUTH | 47 | 47 | |
| 8 | BANTAM OF THE KOPERA | 42 | 42 | |
| 9 | CRUMBS DM | 39 | 39 | |
| 10 | DYNAMO DELIA | 39 | 39 | |
| 11 | SOFT CENTRES | 39 | 39 | |
| 12 | KOPITESAREGOBSHITES | 38 | 38 | |
| 13 | HARDWICK UNITED | 34 | 34 | |
| 14 | 1897 - THE GOLDEN YEAR | 32 | 32 | |
| 15 | HALESOWEN HARRIERS | 31 | 31 | |
| 16 | STROKE CITY | 31 | 31 | |
| 17 | BILL S PRESTON NORTH END | 30 | 30 | |
| 18 | CREATIVELY CHALLENGED | 30 | 30 | |
| 19 | WHO ATE ALL THE PRAWN SANDWICHES | 30 | 30 | |
| 20 | CORNO TEAM | 28 | 28 | |
| 21 | LIVERPOO | 26 | 26 | |
| 22 | NOTTING TOULOUSE | 26 | 26 | |
| 23 | THE POOL XI | 25 | 25 | |
| 24 | BIRMINGHAM SHITTY | 21 | 21 | |
| 25 | WHATEVER 3 - THE RISE OF THE MACHINES | 19 | 19 | |
| 26 | FECKHAM | 15 | 15 | |
| 27 | SUSHI FC | 14 | 14 | |
| 28 | THE MIGHTY CRAICERS | 8 | 8 | |
| 29 | LION OF VIENNA SLEEPS TONIGHT | 5 | 5 | |