THANK GOD THAT'S OVER WITH
---
Well, that's it. The dreamteam season is well and truly over but what a bloody anti-climax! With several money issues still to be decided, I thought the FA Cup was going to provide us with more drama than you can shake a stick at. But no.

There I was, with my slide-rules and calculator, ready to work out all the permutations of how the Isle of Man Utd could leapfrog Kopitesaregobshite and whether or not Bill S Preston North End could realistically nab the Fair Play Award, expecting an end-to-end final. To add to the excitement, there were three managers in the same room as me (together with Lord Skipton of Barnet) and another four in the flat below. I needn't had bothered as we got a damp squib with the money issues were all but taken care of by half-time.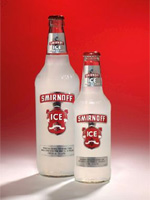 The best thing about Saturday's game.

I blame Thierry Henry. He was the key to it all. Had he scored, I would have won the Fair Play Award and the Heathrow Heroes may have nabbed fourth spot. Instead, it was Robert Pires who was covered in glory, leaving Ruud Van Nistelrooy to pick up a 20-point bonus and me out of pocket by £10… Bloody typical. Worst still, I actually had the pleasure of meeting You Would Have Gone Further With Keano's manager later that evening. Had I known then what I know now I would have demanded another pint of Smirnoff Ice (which is available on tap in Dublin, as we later found out!)

So it wasn't to be, for Rob, Ron or myself. Mark added the runners-up spot to his championship success for a fantastic one-two, leaving Rob in third and Cory in fourth with the Bantam Menance while Ron at least had the honour of picking up the Wooden Spoon, despite the best efforts of Craig's two-front push with Athletic Salford and Lion of Vienna Sleeps Tonight.

There wasn't really much movement in the table as no one really came out of Saturday's game with any honour except the true Horse, Oleg Luzhny, who nabbed the Starman award against all expectations.

And so, with that, its time to say goodbye for another season, only this year we're saying goodbye to a couple of teams for good, amongst them Crumbs DM and Spakatak Toxteth.

Ash has been part of the Dreamteam since its very conception and has acted as treasurer for the last two years. During that time he's won quite a few honours but never the big one which he so craved. He's finally accepted that he'll never win the title and will not be returning as "its no fun just beating you!" Clare never managed to reach the same heights as Ash but she brought a fresh enthusiasm to proceedings when she joined three years ago and the Meet the Manager feature was her brainchild. I'm sure you'd like to join me in wishing them luck in their new respective pursuits - stamp collecting and basket weaving.

Enjoy the summer. I'll be back next year with a team full of Millwall players as we're probably going to sell the lot of them to Blackburn and Portsmouth between now and then. And if we do, I wouldn't put Steven Reid in your team next season, as he's a pile of overrated shite.

Here's the table. Oh, and if you want paying, talk to Ash before he blows it all on a Penny Black.


| POS | TEAM | PTS | SC | |
| --- | --- | --- | --- | --- |
| 1 | THE TOFFEES - 100 YEARS OF TOP FLIGHT FOOTBALL | 1903 | 30 | |
| 2 | KOPITESAREGOBSHITES | 1714 | 9 | |
| 3 | ISLE OF MAN UTD | 1706 | 22 | |
| 4 | THE BANTAM MENACE | 1698 | 36 | |
| 5 | HEATHROW HEROES | 1670 | 22 | |
| 6 | SOFT CENTRES | 1665 | 22 | |
| 7 | CRUMBS DM | 1643 | 30 | |
| 8 | STROKE CITY | 1631 | 26 | |
| 9 | DAVID SEAMAN'S PONYTAIL EXPRESS | 1620 | 22 | |
| 10 | FREDDIE'S HAIR | 1602 | 22 | |
| 11 | SPAKATAK TOXTETH | 1601 | 26 | |
| 12 | I KNOW NOTHING ABOUT FOOTBALL | 1513 | 22 | |
| 13 | THE ARROWS | 1495 | 2 | |
| 14 | CRAZYHORSE FC | 1475 | 22 | |
| 15 | YOU WOULD HAVE GONE FURTHER WITH KEANO | 1462 | 9 | |
| 16 | BILL S PRESTON NORTH END | 1449 | 4 | |
| 17 | TORPEDO | 1405 | 30 | |
| 18 | BARNIE'S OWLS | 1369 | -1 | |
| 19 | WHATEVER AGAIN | 1366 | 0 | |
| 20 | HICKY'S HEROES | 1335 | 29 | |
| 21 | THE DARLING DUBS THAT PLAY | 1316 | 7 | |
| 22 | SUPERSONIC FC | 1311 | 0 | |
| 23 | BIRMINGHAM SHITTY | 1306 | 3 | |
| 24 | 1897 - THE GOLDEN YEAR | 1215 | 7 | |
| 25 | ATHLETICO SALFORD | 1141 | 8 | |
| 26 | SALFORD STROKERS | 1128 | 16 | |
| 27 | LION OF VIENNA SLEEPS TONIGHT | 969 | 20 | |